Specifications / Inspection certificate
Please let us know if you want various data sheets, such as product specifications and inspection certificate.
There are many specification items. So we will create the certificate depending on your requirements.
Product specifications
Control and distribution of products according to your specifications are possible in case you wish to mass-produce magnets or continue purchasing at Magfine. Please let us know if you wish to add other specific inspection standards, we will implement additional inspections. The main test items for specific inspections are written below.
Film thickness for surface processing , Magnetism orientation , Sampling inspection standard , Standard deviation , Corrosion resistance , Heat resistance , Appearance
Below is a sample of specification sheet for regular products.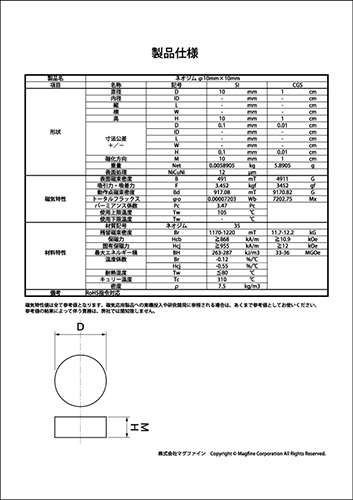 Inspection report
Our magnets go through standard inspection for every production lot.
Measurements , Material characteristics , Magnetic characteristics , Appearance , Standard deviation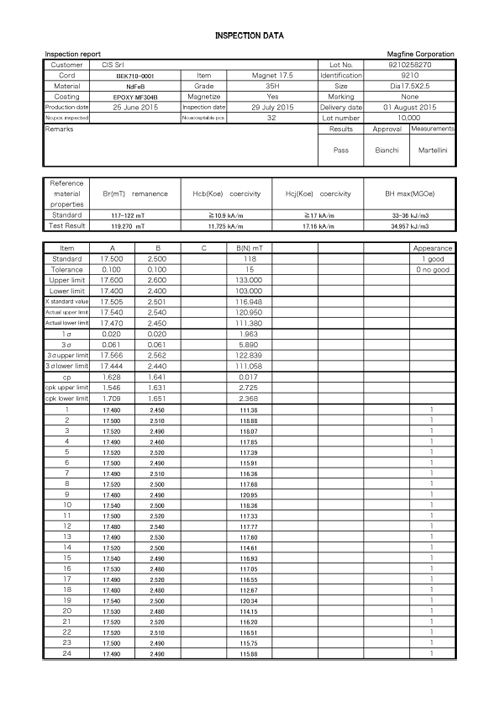 B-H curve / demagnetizing curve / hysteresis curve
Describe the magnetic performance with the magnetic history of the second quadrant area indicating residual magnetic flux density and coercivity.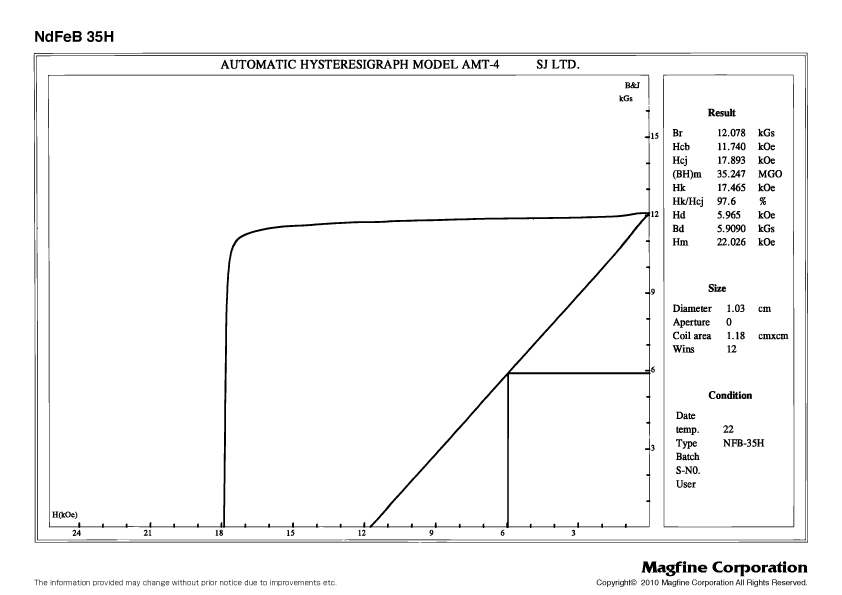 Export trade control order certificate of non-applicability
Proves non-applicability of strategic goods for security export control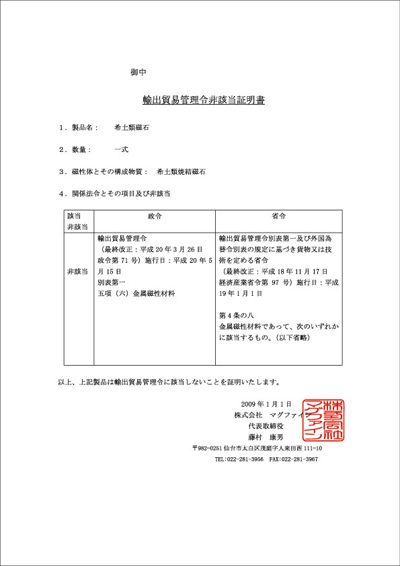 Certificate of no use of RoHS / Certificate of no inclusion of PFOS
RoHS:The Restriction of the use of certain Hazardous Substances in Electrical and Electronic Equipment
Chemical regulation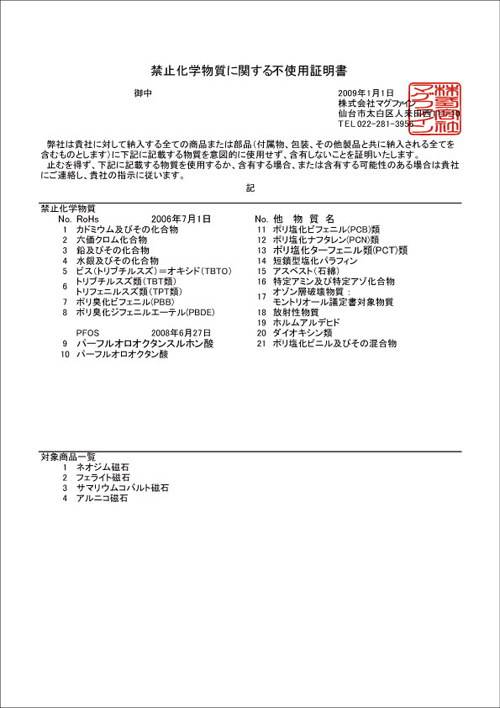 MSDS Systems Chemical material safety data sheet
Chemical substances subject to MSDS system are class I designated chemical substances and class II designated chemical substances specified by Act on Confirmation, etc. of Release Amounts of Specific Chemical Substances in the Environment and Promotion of Improvements to the Management Thereof.
Permanent magnets are not subject to MSDS system. MSDS, a data sheet of contained materials, is available. (MDS is not a proof to assure safety.)
The MSDS System is a system that requires providing a Material Safety Data Sheet, information on handling and characteristics of chemical substances, when two or more companies transfer or offer products that contain subject chemical substances in order to improve appropriate management of substances operated by companies or businesspersons.
With the MSDS System, companies can receive material safety data sheets from their clients, with which they can keep information necessary to appropriately manage chemical substances they intend to use.