No electricity required!
With neodymium magnets, it requires no electricity, and can be turned on and off with a lever. Suitable for lifting up heavy materials, such as iron plates and round iron bars.

Adhesion

Made with neodymium magnets, no electricity is required for use. Simple control with an ON / OFF switching lever allows easy operations. Despite its small casing, it is capable of lifting heavy products, such as steel sheets and round steel bars.
How to use
1 Quietly place the lifting magnet on the center of gravity of the lifting subject.
2 Push the safety button and pull the lever to ON.
*The lever does not move if the magnet is not placed on a strong magnetic material.
*Please place your magnet on a strong magnetic material.
3 Lift up the targeted material slightly from the ground.
4 Hit the targeted material with a wood to make sure that the magnet does not let go of the material.
5 If the magnet sticks to the material, start lifting and move slowly.
Characteristics by product numbers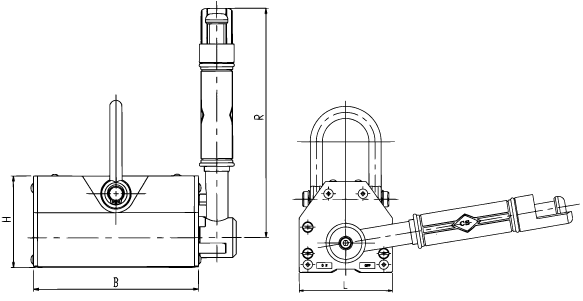 >Please click the product number to see the price.
No.
Maximum lift-up capacity
Lift-up capacity 1/3
(Safety factor 3)

Round iron bar lift-up standard
Measurements
Temperature when in use
mass
Flat iron
Round iron
Approvable diameter
L
B
H
R
CSYQ100A
100kg
50kg
φ40-150mm
64mm
92mm
67mm
150mm
<80℃
3kg
Price
CSYQ300A
300kg
150kg
φ60-200mm
92mm
162mm
91mm
255mm
<80℃
7.5kg
Price
CSYQ600A
600kg
300kg
φ60-300mm
122mm
233mm
118mm
230mm
<80℃
23kg
Price
CSYQ1000A
1000kg
500kg
φ70-400mm
179mm
268mm
164mm
-mm
<80℃
55.5kg
Price
CSYQ2000A

2000kg
1000kg
φ150~400mm
234mm
378mm
212mm
-mm
<80℃
125kg
Price
CSYQ3000A

3000kg
1500kg
φ150-500mm
310mm
497mm
252mm
-mm
<80℃
220kg
Price
CSYQ6000A

6000kg
3000kg
-
442mm
621mm
210mm
-mm
<80℃
440kg
Price
Characteristics by materials
| Material | Specified value of adhesion |
| --- | --- |
| SS400 | 100% |
| S45C,SUS430 | 80% |
| SK3,SUJ2,S45C | 75% |
| SKH9,SKD11,FC25 | 50% |
Characteristics by surface processing
| Surface condition | Characteristic value of adhesion |
| --- | --- |
| SS400 ▽▽▽G | 100% |
| SS400 ▽▽ | 70% |
| SS400 ▽ | 60% |
| SS400 ~ | 50% |
Characteristics
by board thickness
Characteristics
by adhesion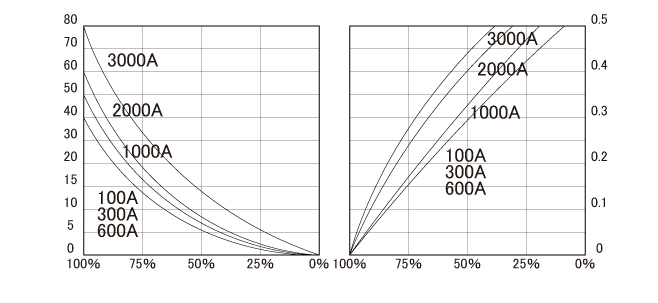 Adhesive surface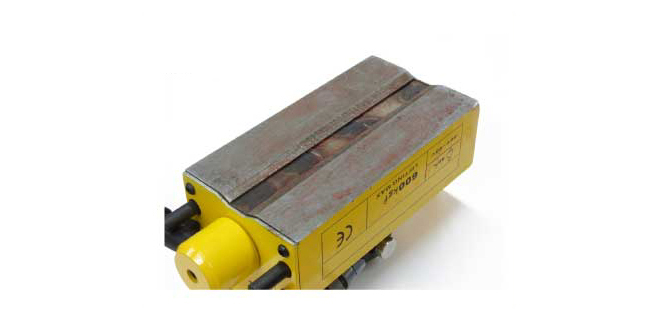 Lift-up capacity test