Bar magnets are used in the separation of metals, food production and recycling.
Our bar magnets are neodymium magnets inside a stainless steel cylinder. They are used widely for removing iron powder when separating metals from other waste for recycling, food production and spinning. By implementing a bar magnet in a production line as a magnetic separator, it is possible to prevent metal contaminants (iron scrap or fine iron powder etc) getting into food. There are M6 tapped holes on both ends making it easy to insert into machines. Please choose an outer case, surface flux density and heat resistant specification that are suitable for your needs.
They capture even the smallest pieces of iron powder, grindings and needles.
It will even attract magnetic materials that are barely visible such as iron powder.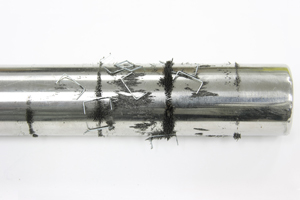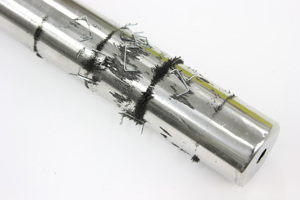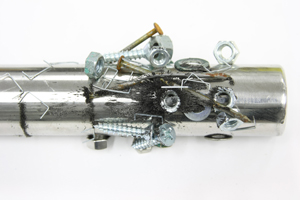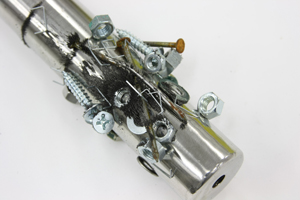 They can be custom made to suit your requested length, heat resistance and pole pitch.
For custom made orders, we can make bar magnets with your requested tolerance in millimeters (minimum ±0.5mm).
Heat resistance 200℃ (1 tesla, 10,000 gauss)
Ultra high magnetism (1.4 tesla, 14,000 gauss)
Ultra narrow pitch (thickness 5mm, 10mm, 15mm embedded)
Compatible with specifications of all types
We also accept orders for magnetic separators, products using magnetic filters and cube shaped bar magnets!
To customers considering magnetic separator/magnet filters but are concerned that the assembly will be difficult; at Magnet Japan we can also make your magnetic separator/magnet filter. Please feel free to ask us. We will also offer you technical advice.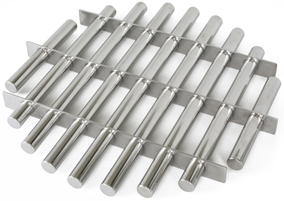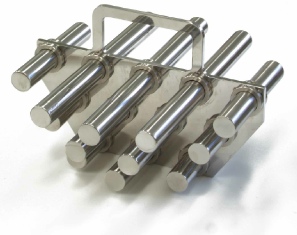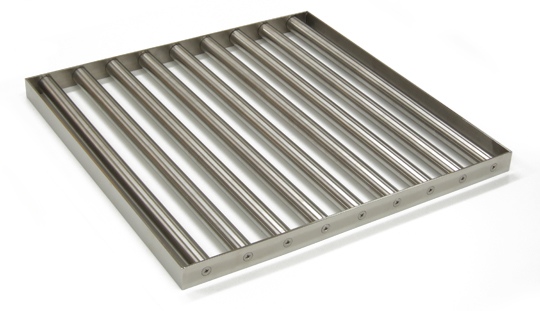 Production procedure of bar magnets
Our bar magnets are made by hand by our skilled workers.
Platethickness
0.5mm
Welding
sealed
Screw
Holes
Surface
polishing
List of properties of bar magnets and magnet filters
| Surface inductive density | Adsorption point | Fine powder, iron powder | Short distance attraction capacity | Long distance attraction capacity | Distance | Affected area |
| --- | --- | --- | --- | --- | --- | --- |
| 12000G | ○ | ○ | ○ | | | |
| 14000G | | | | ○ | ○ | ○ |
Surface inductive density
Filter grain
Object
Target
12000G
Fine, thin
Fine powder & iron powder
Chips, iron dust, needles
Fine objects
Small objects
14000G
Rough, thick
Bolts, nuts
Screws, clips
Thick objects
Large objects
| Embedded magnets | Factors | Compatibility | Repulsive resistance | Magnetic force | Attraction capacity | Ease of assembly |
| --- | --- | --- | --- | --- | --- | --- |
| Even number | 2,4,6,8,12,16 | | | | | |
| Odd number | 3,5,7,9,11,13 | ○ | ○ | ○ | ○ | ○ |
| Outer case | Corrosion resistance | Price |
| --- | --- | --- |
| SUS304 | Strong in fresh water | ○ |
| SUS316 | Strong in salt water | |