MP series square shaped magnet plates
A square shaped magnet plate is a strong magnetic plate in which square shaped neodymium magnets are laid out in a stainless steel case like tiles. The surface magnetic flux density is less than a bar magnet but its strong magnetic field extends to a large area. It is suitable for large items such as vegetables, products and clothes.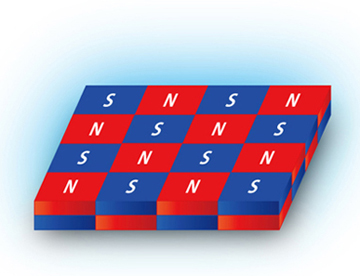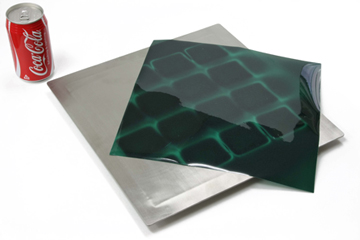 Example of installation positioning
It is suitable for objects that are placed on belt conveyors and or flow inside piping.

List of standard sizes
| Code | L | D | B | H | Weight of actual item | Surface Magnetic Flux | |
| --- | --- | --- | --- | --- | --- | --- | --- |
| MPA10 | 100mm | 100mm | 150mm | 20mm | 2kg | 300mT | Price |
| MPA15 | 150mm | 150mm | 200mm | 20mm | 4kg | 300mT | Price |
| MPA20 | 200mm | 200mm | 250mm | 20mm | 7kg | 300mT | Price |
| MPA25 | 250mm | 250mm | 300mm | 20mm | 10kg | 300mT | |
| MPA30 | 300mm | 300mm | 350mm | 20mm | 15kg | 300mT | Price |
| MPA35 | 350mm | 350mm | 400mm | 20mm | 20kg | 300mT | |
| MPA40 | 400mm | 400mm | 450mm | 20mm | 26kg | 300mT | |
| MPA45 | 450mm | 450mm | 500mm | 20mm | 33kg | 300mT | |
| MPA50 | 500mm | 500mm | 550mm | 20mm | 40kg | 300mT | Price |
| MPB10 | 100mm | 100mm | 150mm | 40mm | 3.5kg | 400mT | |
| MPB15 | 150mm | 150mm | 200mm | 40mm | 7.5kg | 400mT | |
| MPB20 | 200mm | 200mm | 250mm | 40mm | 13kg | 400mT | |
| MPB25 | 250mm | 250mm | 300mm | 40mm | 20kg | 400mT | |
| MPB30 | 300mm | 300mm | 350mm | 40mm | 29kg | 400mT | |
| MPB35 | 350mm | 350mm | 400mm | 40mm | 40kg | 400mT | |
| MPB40 | 400mm | 400mm | 450mm | 40mm | 51kg | 400mT | |
| MPB45 | 450mm | 450mm | 500mm | 40mm | 65kg | 400mT | |
| MPB50 | 500mm | 500mm | 550mm | 40mm | 80kg | 400mT | |
| MPC10 | 100mm | 100mm | 150mm | 60mm | 5kg | 500mT | |
| MPC15 | 150mm | 150mm | 200mm | 60mm | 11kg | 500mT | Price |
| MPC20 | 200mm | 200mm | 250mm | 60mm | 20kg | 500mT | |
| MPC25 | 250mm | 250mm | 300mm | 60mm | 30kg | 500mT | |
| MPC30 | 300mm | 300mm | 350mm | 60mm | 43kg | 500mT | |
| MPC35 | 350mm | 350mm | 400mm | 60mm | 59kg | 500mT | |
| MPC40 | 400mm | 400mm | 450mm | 60mm | 77kg | 500mT | |
| MPC45 | 450mm | 450mm | 500mm | 60mm | 98kg | 500mT | |
| MPC50 | 500mm | 500mm | 550mm | 60mm | 120kg | 500mT | |